Hi All,
First of all: THIS IS NOT A BUY or SELL Advice.
SIRA.N is a fundamentally solid company which is traded at attractive prices currently.
Following is the P/E analysis of the company and comparing with AEL.N and ACL.N which are operated in the same kind of business.
| | | | |
| --- | --- | --- | --- |
|   | SIRA.N | ACL.N | AEL.N |
| EPS | 0.1 | 2.36 | 0.43 |
| Price | 3.4 | 64 | 27 |
| P/E |         34.00 |         27.12 |         62.79 |
SIRA.N is attractive comparing to PE an analysis (still ACL.N is better option, But this is already shot up recently. 
And SIRA.N has a wonderful Net asset per share which is
2.99
 almost equals to the trading price. This is a good sign of a strong fundamental company.
Below is the technical analysis of SIRA.N.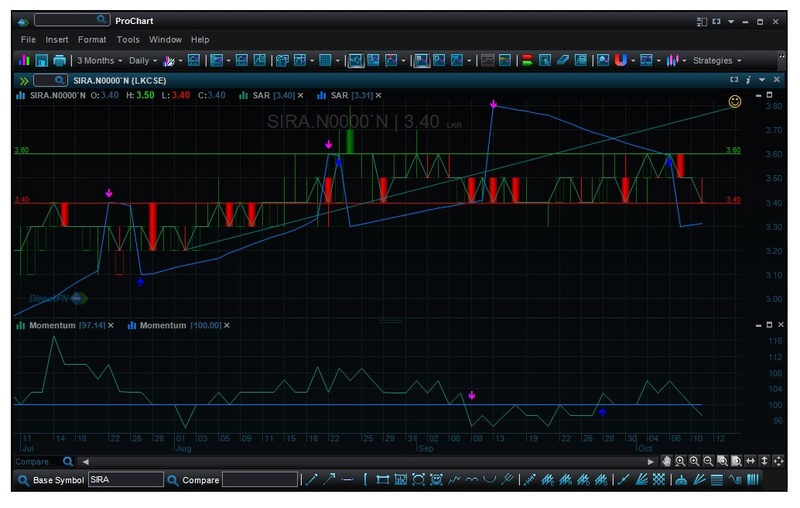 There is a strong supporting level at 3.4 which is marked with red line. and again the upper limit is 3.6. But From August the stock is traded at 3.4 -3.6 range which has provided a solid boost pad. If Sira.N can break 3.6 level it will shoot up to 4 and will try to settle at a new supporting level according to above chart. The momentum line is still downward but expected to turn into correct path and this will help to break the 3.6 level and shoot the price upto 4 in few weeks. 
But with the expected good expansion of the industry ; SIRA. N can be a worth holding which will be traded at good levels in coming few months.
Critics are welcome!