* Exporters deny lobbying to import cheap tea
* Insist more liberal regime for select import of orthodox varieties key to boost blending for exports and establish Colombo as a tea hub
* Stress Pure Ceylon Tea will remain supreme and unaffected
By Uditha Jayasinghe
Stirring a fresh storm in the industry, the Tea Exporters Association (TEA) yesterday dismissed claims of substandard imports flooding Sri Lanka under a much-needed hub and liberalised concept and insisted they were equally committed to protecting Pure Ceylon origin.
Chairman Niraj de Mel flanked by members told journalists that TEA "categorically denies" statements made by Dilmah that liberalising tea imports would be negative for the overall industry.
He insisted that the TEA had been invited by Plantations and Human Rights Minister Mahinda Samarasinghe to study the possibility of liberalising tea imports so that Sri Lanka could be promoted as a tea hub, maximising the industry's and Sri Lanka's potential to its fullest in line with the 'Mahinda Chinthana – Idiri Dekma' policy document.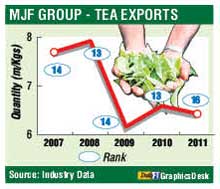 Given that TEA members export 83% of Sri Lanka's tea, de Mel questioned as to why they would damage the industry, reiterating the services done by them.
"We resent the allegation that we are asking for substandard tea to be imported. What we are discussing is the possibility of a more liberalised and favourable regime for select imports of orthodox varieties for blending and re-export. Such imports would be under strict regulation from the Tea Board as they are now and there would be no adverse impact on Pure Ceylon Tea as that is a premium brand," he added.
"Pure Ceylon Tea will remain intact, fetching a premium, whilst blending does not bring down the quality of our exports either. Exporters are certainly not going to bring down muck," stressed Mlesna Tea Chairman Anslem Perera.
"Positioning and developing the country as a hub with a more relaxed import regime will ensure that Sri Lanka can effectively aspire to a larger share of the global market. We are not champions of foreign-label packers, but the hub concept will help Sri Lankan firms to become multinationals in tea industry," emphasised TEA member and Chairman of HVA Lanka Rohan Fernando.
Import of orthodox tea carries a 25% duty whilst for a line of tea to be imported, the procedure takes three to four months. Under a hub concept there is more supportive facilitation, making import and blending more viable. Higher intake from Sri Lanka will result in better income for growers as well.
The proposal for possible liberalisation is still being discussed within the multi-stakeholder Tea Council set up under the Tea Board Act and De Mel noted that it was both "premature" and "in bad taste" for Dilmah to present only one side of the argument.
"There is no such thing as 'cheap tea'; there are different market demands and tastes that teas are blended to fit, chipped in TEA Chief De Mel. "Many companies including Dilmah already import tea under Tea Board regulations and we are only asking that this be expanded so that other companies can blend and export tea from Sri Lanka."
TEA charges that Dilmah, which accounts for only 6.4 million kgs of tea, cannot speak for an industry of 330 million kilos, especially when a decision is yet to be finalised. "Dilmah is trying to portray itself as the so-called saviour of the tea industry, whereas there are hundreds of exporters who have toiled much harder without getting a single cent to keep the industry going as well as boost foreign exchange earnings," TEA members pointed out.
TEA estimates the international trade of tea to be around 1.8 billion kilos, of which Sri Lanka only accounts for 330 million kilos. Due to the lack of progressive policies, Sri Lanka's share has shrunk to 18% from 25% a few decades ago, with several top buyers pulling out. Imperial Tea Chairman Jayantha Karunaratne said that pressure was increasing for Lankan firms to relocate their operations overseas.
De Mel pointed out that world tea was moving towards brands and value added products by taking examples of popular tea brands such as Lipton and Twinning's. The former was a brand that began in Sri Lanka but is now handling about US$ 4 billion worth of tea but the whole of local exporters earned around US$ 1.5 billion in 2011. Little growth is expected this year and Niraj stressed that exporters needed to have access to different types of tea so that they could blend and cater to different tastes around the world.
According to TEA, the concept of a tea hub was floated under the Government plan to increase overall national export earnings to US$ 20 billion in 2020, under which the tea exports share is to be increased to $ 5 billion from the present $ 1.5 billion.
"Given that this target is only eight years away, we have to move swiftly," de Mel said, adding that the
scope for a hub existed in Sri Lanka since it already had the world's largest tea auction. The hub status with a liberalised regime will increase the number of companies sourcing from Sri Lanka, boosting export earnings, employment and expansion in support services such as banking, shipping and packaging.
"Without liberalising imports, the future for Sri Lankan tea is bleak. If we cannot get a greater variety of tea for blending, even local companies may be forced to move out," they warned.
Taking the example of Ahmed Tea, which is among the top three tea brands in the world, TEA members explained how inconsistent policies by the Government that limited tea imports provoked the company to wrap up its business in Sri Lanka and move overseas.
"Dubai has prospered as a tea hub because we have dragged our feet and now with 45 million kg of tea being processed they are making a significant income, whereas Sri Lanka, which has a 140-year history of tea and knows it well, has been left behind."
De Mel noted that it was exporters who contribute Rs. 3.50 per kilo as levy to build a fund (now worth nearly Rs. 2 billion) to be used for Pure Ceylon Tea advertisements for two years. "We are contributing to promote and protect Pure Ceylon Tea globally and TEA remains committed to protecting the quality of local tea and that every company's imports, if liberalised, would be strictly monitored by the Tea Board," TEA Chairman De Mel emphasised.
The background to the TEA's encounter with the media is Dilmah flagging off the dangers of liberalising tea imports and the wide publicity given to a speech made by Treasury Secretary Dr. P.B. Jayasundera at a the biennial Dilmah Tea global distributor conference recently. See Daily FT issue of 10 May.
In his address, Dr. Jayasundera was reported to have said "one product we should uncompromisingly preserve and protect is Sri Lankan tea," followed by Dilmah flagging off this and related remarks as Government policy.
Exporters contend that it was a private function and the Government's final policy, if it were so, must be articulated at an appropriate place, perhaps suggesting the industry-represented Tea Council.
Dilmah has maintained that the role of the majority of the tea export community is limited to buying and packaging tea and exporting it to various brand owners in foreign markets. These brand owners in turn blend Sri Lankan tea with cheaper, low grade tea from China, East Africa, etc. in order to increase profit margins.
Dilmah opined that the proposed move for making Sri Lanka a hub for blending of tea would result in "value attrition, not addition" to the Pure Ceylon Tea. Prices for Ceylon tea will fall and producers will be affected.
TEA rebutted this saying that producer gets the best prices at the Colombo Auction and the higher price obtained after value addition by exporters doesn't go to the grower but is retained in companies and same applies to Dilmah as well.
Industry icon Merrill J. Fernando has consistently maintained that the success of Dilmah, which the company describes as a truly global 'Pure Ceylon Tea' brand, was due to its use of premium single-origin pure Ceylon Tea, capturing significant market share at the top end of key markets. It has also urged other exporters to create their own high quality Ceylon Tea brands which will be faithful to Ceylon Tea and not pack price sensitive teas for foreign brands.
However, TEA members at yesterday's press conference stressed quality and taste varies as per markets and consumers and to be successful as a growing global player, the tea industry must be able to cater to diverse needs.
"Within our membership they satisfy multiple layers of the tea consuming market. To expand this, further liberalisation under a hub concept will benefit all industry stakeholders," they added.
It was also stressed that Akbar Brothers, which is a composite exporter handling tea shipments in bulk, bag and packet and the country's leading exporter for decades, is supportive of the hub concept in the larger interest.
http://www.ft.lk/2012/05/16/hub-is-no-hoodoo-says-tea/