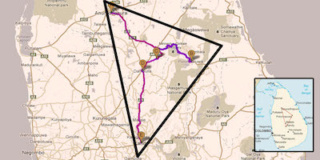 The free-market economy  of Sri Lanka is worth $88.9 billion by nominal gross domestic product  (GDP) and $291.5 billion by purchasing power parity  (PPP). The country has experienced an annual growth of 6.4 percent from 2003 to 2012, well above its regional peers. With an income per capita of 12,811 PPP Dollars (2018 World Bank) or 4,103 nominal US dollars, Sri Lanka is the second wealthiest nation in South Asia after the Maldives  and is an upper middle income nation  The main economic sectors of the country are tourism , tea export , apparel , textile , rice production  and other agricultural products . In addition to these economic sectors, overseas employment contributes highly in foreign exchange: 90% of expatriate Sri Lankans reside in the Middle East .[
Sri Lanka has met the Millennium Development Goal (MDG) target of halving extreme poverty and is on track to meet most of the other MDGs, outperforming other South Asian countries. Sri Lanka experienced a major decline in poverty between 2002 and 2009 – from 23 percent to 9 percent of the population. Despite this pockets of poverty continue to exist. An estimated 9 percent of Sri Lankans who are no longer classified as poor live within 20 percent of the poverty line and are, thus, vulnerable to shocks which could cause them to fall back into poverty. Since the end of the three-decade civil war, Sri Lanka has begun focusing on long-term strategic and structural development challenges as it strives to transition to an upper middle income country. Sri Lanka has one of the lowest tax-to-GDP ratios in the world, and creating jobs for the bottom 40% has become a challenge. Sri Lanka also faces a challenges in social inclusion, governance and sustainability.
According to government policies and economic reforms stated by Prime Minister and Minister of National Policy and economic affairs Ranil Wickremesinghe, Sri Lanka plans to create Western Region Megapolis  a Megapolis  in the western province to promote economic growth. The creation of several business and technology development areas island-wide specialised in various sectors, as well as tourism zones are also being planned.[28] [29] [30] [31]  But Sri Lanka has recently been facing a danger of falling into economic malaise, with increasing debt levels and a political crisis which saw the country's debt rating being dropped.
Since becoming independent from Britain  in February 1948, the economy of the country has been affected by natural disasters such as the 2004 Indian Ocean earthquake  and a number of insurrections, such as the 1971 , the 1987–89  and the 1983–2009 civil war . Between 1977 and 1994 the country came under UNP  rule in which under President J.R Jayawardana  Sri Lanka began to shift away from a socialist  orientation in 1977. Since then, the government has been deregulating, privatizing, and opening the economy to international competition. In 2001, Sri Lanka faced bankruptcy, with debt reaching 101% of GDP. The impending currency crisis  was averted after the country reached a hasty ceasefire agreement with the LTTE and brokered substantial foreign loans. After 2004 the UPFA  government has concentrated on mass production of goods for domestic consumption such as rice, grain and other agricultural products.[33]  however twenty five years of civil war  slowed economic growth,[citation needed ] diversification and liberalisation, and the political group Janatha Vimukthi Peramuna  (JVP) uprisings, especially the second in the early 1980s, also caused extensive upheavals.[34]
Following the quelling of the JVP insurrection, increased privatization , economic reform, and a stress on export-oriented growth helped improve the economic performance, increasing GDP growth to 7% in 1993.
Economic growth has been uneven in the ensuing years as the economy faced a multitude of global and domestic economic and political challenges. Overall, average annual GDP growth was 5.2% over 1991–2000.
In 2001, however, GDP growth was negative 1.4%--the first contraction since independence. The economy was hit by a series of global and domestic economic problems and affected by terrorist attacks in Sri Lanka and the United States . The crises also exposed the fundamental policy failures and structural imbalances in the economy and the need for reforms. The year ended in parliamentary elections in December, which saw the election of United National Party  to Parliament, while Sri Lanka Freedom Party retained the Presidency.
During the short lived peace process from 2002 to 2004, the economy benefited from lower interest rates , a recovery in domestic demand, increased tourist arrivals , a revival of the stock exchange, and increased foreign direct investment (FDI). In 2002, the economy experienced a gradual recovery. During this period Sri Lanka has been able to reduce defense expenditures and begin to focus on getting its large, public sector debt under control. In 2002, economic growth reached 4%, aided by strong service sector growth. The agricultural sector  of the economy staged a partial recovery. Total FDI inflows during 2002 were about $246 million[35]
The Mahinda Rajapakse  government halted the privatization process and launched several new companies as well as re-nationalising previous state owned enterprises, one of which the courts declared that privatizationis null and void.[36]  Some state-owned corporations became overstaffed and less efficient, making huge losses with series of frauds being uncovered in them and nepotism rising.[37]  During this time EU  revoked GSP  plus preferential tariffs from Sri Lanka due to alleged human rights violations, which cost about US$500 million a year.[38] [39]
The resumption of the civil-war in 2005 led to a steep increase defense expenditures. The increased violence and lawlessness also prompted some donor countries to cut back on aid to the country.[1] [2] .
A sharp rise in world petroleum prices combined with economic fallout from the civil war led to inflation that peaked 20%. However, as the civil war ended in May 2009 the economy started to grow at a higher rate of 8.0% in the year 2010 and reached 9.1% in 2012 mostly due to the boom in non-tradable sectors. However the boom didn't last and the GDP growth for 2013 fell to 3.4% in 2013 and only slightly recovered to 4.5% in 2014.[40] [41] [42] [43]
In 2016 the government succeeded in lifting an EU ban on Sri Lankan fish products which resulted in fish exports to EU rising by 200% and in 2017 improving human rights conditions resulted in the European Commission proposing to restore GSP plus facility to Sri Lanka.[29] [30] [44] [45]  Sri Lanka's tax revenues per GDP also increased from 10% in 2014 which was the lowest in nearly two decades to 12.3% in 2015[46]  Despite reforms, Sri Lanka was listed among countries with the highest risk for investors by Bloomberg.[47]
The chart below summarizes the trend of Sri Lanka's gross domestic product at market prices.[48]  by the International Monetary Fund with figures in millions of Sri Lankan Rupees.
[th]Year[/th][th]Gross Domestic Product[/th][th]US Dollar Exchange[/th]
1980
66,167
16.53 Sri Lankan Rupees
1985
162,375
27.20 Sri Lankan Rupees
1990
321,784
40.06 Sri Lankan Rupees
1995
667,772
51.25 Sri Lankan Rupees
2000
1,257,637
77.00 Sri Lankan Rupees
2005
2,363,669
100.52 Sri Lankan Rupees
2016
6,718,000
145.00 Sri Lankan Rupees
For purchasing power parity comparisons, the US Dollar is exchanged at 113.4 Sri Lankan Rupees only.
The following table shows the main economic indicators in 1980–2017.[49]
[th]Year[/th][th]1980[/th][th]1985[/th][th]1990[/th][th]1995[/th][th]2000[/th][th]2005[/th][th]2006[/th][th]2007[/th][th]2008[/th][th]2009[/th][th]2010[/th][th]2011[/th][th]2012[/th][th]2013[/th][th]2014[/th][th]2015[/th][th]2016[/th][th]2017[/th]
GDP in $


(PPP)

16.58 Bln.
27.43 Bln.
37.74 Bln.
56.28 Bln.
83.03 Bln.
112.59 Bln.
124.94 Bln.
136.99 Bln.
147.99 Bln.
154.39 Bln.
168.80 Bln.
186.76 Bln.
207.60 Bln.
218.11 Bln.
233.01 Bln.
247.37 Bln.
261.72 Bln.
274.72 Bln.
GDP per capita in $


(PPP)

1,135
1,772
2,320
3,257
4,496
5,739
6,319
6,874
7,309
7,540
8,164
8,949
10,164
10,599
11,220
11,798
12,343
12,811
GDP growth


(real)

5.8%
5.0%
6.2%
6.1%
8.4%
6.2%
7.7%
6.8%
6.0%
3.5%
8.0%
8.4%
9.1%
3.4%
5.0%
5.0%
4.5%
3.1%
Inflation


(in Percent)

26.1%
1.5%
21.5%
7.7%
6.2%
11.0%
10.0%
15.8%
9.6%
3.4%
6.3%
6.7%
7.5%
6.9%
2.8%
2.2%
4.0%
6.5%
Government debt


(Percentage of GDP)

...
...
82%
80%
82%
79%
77%
74%
71%
75%
72%
71%
70%
72%
72%
78%
80%
79%
In 1977, Colombo abandoned statist economic policies and its import substitution trade policy for market-oriented policies and export-oriented trade.
Sri Lanka's most dynamic industries now are food processing, textiles and apparel, food and beverages, telecommunications, and insurance and banking.
By 1996 plantation crops made up only 20% of exports (compared with 93% in 1970), while textiles and garments accounted for 63%. GDP grew at an annual average rate of 5.5% throughout the 1990s until a drought and a deteriorating security situation lowered growth to 3.8% in 1996.
The economy rebounded in 1997–98 with growth of 6.4% and 4.7% – but slowed to 3.7% in 1999. For the next round of reforms, the central bank of Sri Lanka recommends that Colombo expand market mechanisms in nonplantation agriculture, dismantle the government 's monopoly on wheat imports, and promote more competition in the financial sector.
Pre 2009 there was a continuing cloud over the economy the civil war and fighting between the Government of Sri Lanka  and LTTE . However the war ended with a resounding victory for the Sri Lankan Government on 19 May 2009 with the total elimination of LTTE.
2018E: 4.5%, 2019E: 4.8%
Following a real GDP expansion of 3.1% in 2017, the economy is however anticipated to be in the "negative output gap" territory in 2018E and 2019E (i.e. below its potential output of 5.25% - estimated by the IMF)
Global Environment not likely to assist in reducing the Negative Output Gap of Sri Lanka
Even though the CBSL tried to adopt a soft monetary policy by early April 2018 to reduce the output gap of the Sri Lankan economy, the chances of the Regulator opting for further policy interest rate cuts seem to be limited at this juncture, given hawkish approach of the FED in the near term (as there could be a potential capital flight from domestic markets as already seen with the domestic fixed income market's foreign holding). The expected FED rate (at least more than a couple in 2H2018E) hikes are anticipated to continue to reduce foreign participation in the domestic fixed income markets as seen during previous rate hikes of the FED.
Climatic Change Impact on South Asia to Hinder Agri allied output in the Short to Medium Term
Another reason why the Sri Lankan (real GDP) output is likely to be low in the near to medium term is low absolute output expected from Agriculture and Agri-allied manufacturing processes. There was a flood in May 2018 (followed by floods in May 2016 and May 2017), and based on the World Bank's recent Annual Reports, world climatic change related impact may likely result in annual floods and / or droughts for the South Asian region in the near to medium term (that includes Sri Lanka).
Investment Environment and Sustainable Revenue allied Limitations
Sri Lanka's investment to GDP ratio (average for past five years) hovers ~ 31% which is made up of 24% Private Sector Investment, 5% Public Investment (or Government Capex) and 2% via Foreign Direct Investment (FDIs). For an economy to reach a sustainable productive capacity (or real GDP growth rate) equivalent to 6% - 7%, the investment to GDP ratio has to at least increase to the level of ~34% - 35%, which requires an increase in the said investments level. Given Sri Lanka's natural savings rate of ~23% - 24%, private sector investment may continue to remain at 24% levels at least in the near term. Given Government of Sri Lanka's (GoSL) commitment to contain fiscal deficits in the near term, Public investment in GoSL' s best case will be at ~5% level in the short to medium term. This leaves room only for one area of focus in the near term, if Sri Lanka needs to increase its potential output level, which is FDIs. For this to improve, few indices like the "doing business index (Sri Lanka stood at 111 for 2018 which deteriorated its rank from 85th position during 2014)", the overall tariff structure & allied reforms and infrastructure project execution pace (to increase economic efficiency) play a key role. However, increasing FDI level to 5% - 6% in the medium term may require fast pacing the matters mentioned above.
From a sustainable revenue point of view, Sri Lanka has continued to perform low, given its declining Export to GDP ratio, which was at 33% in 2000, that deteriorated to 15% in 2014 which has now (by end of 2017) further deteriorated to 12%, emphasizing the fact that policies by the successive Governments during past few decades have not helped in increasing the country's sustainable revenue. A classic example for this is, during 1992, Sri Lanka's absolute Export Value was on par with countries like Vietnam and Bangladesh (at US$2bn), which has only grown to a shade below US$12bn by end of 2017 (compared to Vietnam's US$214bn and Bangladesh's US$36bn for 2017)
Head line CCPI and NCPI will hover at 6% by 30 June 2019
Even though the Government did not adopt the fuel pricing formula, the Government took action to increase domestically controlled Petrol and Diesel prices, that will eventually increase non-financial SOE gains (which were in the red zone up to 2015) in the near term. This reform (even though, it is a spot action) and the anticipated adoption of the electricity pricing reform or a similar adjustment to electricity prices by end of September 2018 (as agreed with IMF's reform agenda for Sri Lanka), may transfer Ceylon Petroleum Corporation - CPC and the Ceylon Electricity Board - CEB (two of the top three loss making SOEs – other being Sri Lankan air lines) in to the green zone (profits), in SOE financials.
These changes may however, result in upward inflationary pressures in the short to medium term which will also be further slightly stimulated by supply side shocks anticipated via adverse weather related mishaps in the near term.
However, given the tighter monetary approach in the world economy, commodity prices may likely ease at least commencing 2019, which will eventually help sustain imported inflation to the country. As a result, inflation in Sri Lanka could be possibly contained at around 6% by mid-2019.
12 Month T bill to be at 10% by 30 June 2019
The CBSL has reduced its T bill holding significantly from April 2017 to date reversing any monetary stimulated inflationary actions. Thus the resultant liquidity levels in the money market broadly reflects natural market conditions compared to the market that was there an year ago, which reflected more realistic banking sector interest rates as of June 2018.
Private sector credit growth declined from high levels of 29% YoY in July 2016 to 15% YoY levels in 1Q2018. One of the main features of this decline includes a significant reduction in the uptake of credit from the Corporates, which is depicted by the declining Prime - Net Interest Margins (Prime - NIMs) since September 2016. Prime - NIMs declined from 5.2% in Sep 2016 to 2.2% in May 2018, which is a 300bit/s reduction in corporate lending business for the local banking system. However, retail margins in the economy declined only 30bit/s to 5% during the same period, which confirms the tilt of credit towards less credit worthy from high credit rated corporates (pausing possible NPA threats for the banking system in the near term).
Given the changes taking place in the private credit space (i.e. the retail tilt), and provided the CBSL's recent policy rate cut in April 2018, credit growth may still continue to move either horizontally (i.e. at 15% level) or continue to reduce slightly given anticipated near term inflationary pressures, as the consumption led borrowings may also tend to decline on account of anticipated reduction in near term disposable income. This will however not add any excessive upward pressures on interest rates (including 12-month T bill yields) especially during 2H2018E. As a result, 12-month Treasury bill yields may in fact slightly decline from its June 2018 --> 9.4% to 9% levels by end of 2018E. However, given the International Sovereign Bond (ISB) bullet payments >US$3bn p.a. commencing from 2019E may likely add some upward pressure on interest rates, resulting in the 12-month T bill yields rising to at least 10% by 30 June 2019.
The author of this segment (Sanjeewa Fernando) is a Lecturer at the University of Colombo  for Master of Financial Economics
In the recent past, the Sri Lankan Government has identified some key focal areas to address the external imbalances of the economy, especially with regard to reducing its high trade deficit (~15% of GDP  for 2012) in order to make the economy comply with the Marshall–Lerner condition . Sri Lanka's oil import bill accounts for an estimated 27% of total imports while its pro-growth policies have resulted in an investment goods import component of 24% of total imports. These inelastic import components have led to Sri Lanka's Export goods price elasticity + Import goods price elasticity totalling less than 1, resulting in the country not complying with the Marshall–Lerner condition .
Some of the suggested proposals include:


Import substitution of investment goods and consumer goods


Tax concessions towards value added exports


Negotiating longer credit periods for oil imports


Allowing the external value of the currency to be determined by market forces (with minimal central bank intervention).




Within the capital account, borrowings still account for a significant proportion as opposed to Foreign direct investments .


FDIs were estimated at ~US$800mn for FY2012




The economy ended with an overall positive balance of US$151mn for 2012 (vs. a US$1,061mn deficit in FY2011)


[3]
The Central Bank of Sri Lanka  is the monetary authority  of Sri Lanka  and was established in 1950. The Central Bank is responsible for the conduct of monetary policy  in the country and also has supervisory powers over the financial system .[50]
The Colombo Stock Exchange  (CSE) is the main stock exchange  in Sri Lanka . It is one of the most modern exchanges in South Asia, providing a fully automated trading platform. The vision of the CSE is to contribute to the wealth of the nation by creating value through securities. The headquarters of the CSE have been located at the World Trade Center Towers [4]  in Colombo  since 1995 and it also has branches across the country in Kandy , Matara , Kurunegala , Negombo  and Jaffna .[51]  In 2009, after the 30 years long civil war came to an end, the CSE was the best performing stock exchange in the world.
See also: Central Bank of Sri Lanka  and Colombo Stock Exchange


Last edited by Quibit on Sun Mar 22, 2020 11:21 pm; edited 7 times in total