[size=33]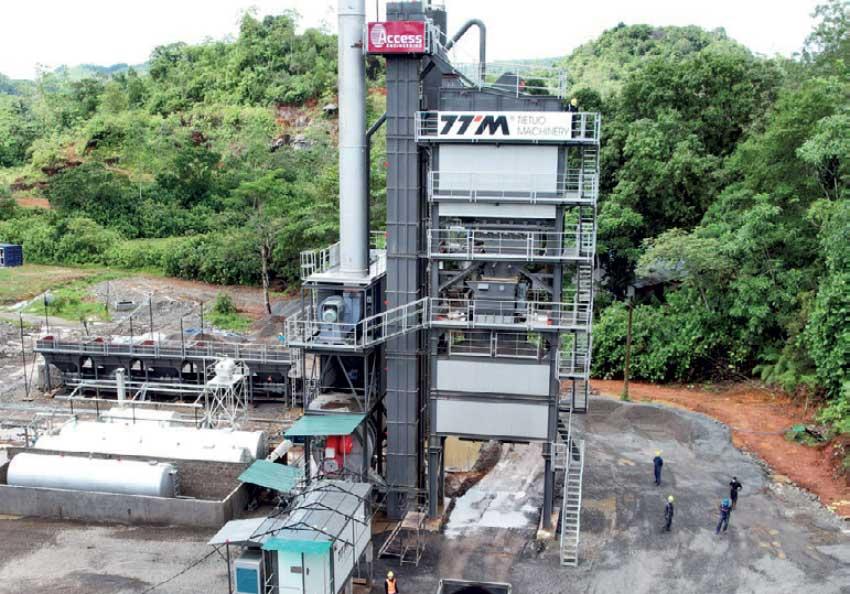 [/size]


New plant's production capacity is over 160 metric tonnes of asphalt concrete per hour 


To cater to growing asphalt concrete demand due to country's large construction projects underway


Access Engineering PLC (AEL), the foremost civil engineering company in Sri Lanka, expanded its asphalt manufacturing plant operations by establishing a new asphalt plant at Daniston Estate in Horawala, Matugama recently, in addition to the asphalt plant being operated at the 
same premises.

The new plant holds a production capacity of over 160 metric tonnes of asphalt concrete per hour, making it the largest asphalt manufacturing plant in the island.
At present, AEL asphalt plants are located in Matugama, Kotadeniyawa, Mailapitiya, Giriulla, Vavuniya, Okewella, Ganewalpola and Hatton.

The plant in Matugama will greatly enhance AEL's asphalt production capacity, enabling the company to cater towards the growing demand of asphalt concrete in the island, owing to the large construction projects underway 
in Sri Lanka.

AEL, the major producer of asphalt concrete in Sri Lanka, contributes to the 100,000 km Alternative Road System Project implemented by the Roads and Highways Ministry to give rural area residents the much-needed accessibility to improve their livelihoods.

Furthermore, AEL also contributes to the Integrated Road Investment Programme (iRoad project) due to its role as a key asphalt concrete supplier while the plants in Matugama are meeting the asphalt concrete requirement of the Ruwanpura Expressway Project, to name a few.

Access Engineering PLC General Manager and Head of Production Plants Lagath Gamalathge stated that a consistent supply of asphalt concrete at very competitive market rates will be continued through this plant to a number of government projects that are already being implemented, such as 100,000km Alternative Road System under the government's policy statement of 'Vistas of Prosperity and Splendour' and the Integrated Road Investment Programme in the Kalutara and Colombo districts. 
  He further added, "The location for this installation was strategically selected to optimise and streamline an efficient supply of asphalt concrete to the Colombo, Kalutara, Galle, Matara and Ratnapura districts via the most convenient routes available."

"We believe through this latest addition to our supply chain, we will further strengthen and contribute to the national road development programme whilst ensuring the most efficient distribution of high-quality material."

As the leader in the industry, Access Engineering PLC is committed to contribute towards the government's initiative to upgrade and maintain a sustainable road network in Sri Lanka.
https://www.dailymirror.lk/business-news/Access-Engineering-opens-SLs-largest-asphalt-manufacturing-plant-in-Matugama/273-223119